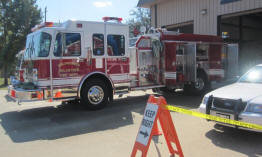 Call 9-1-1 in an emergency
Chief Officers
Chief Mark V. Norris
Assistant Chief Mike Hudson
We are proud to serve the city of Valparaiso and the surrounding communities.
Check our Photo Gallery for new pictures.
Summer Safety
- Hydrate drink plenty of fluids to prevent heat related emergencies. Make sure your pets have plenty of water and shade.
Hurricane Season 2014.
Hurricane season is here once again make sure you are prepared in case a storm comes our way.